When you first decided to propose you gave yourself a pat on the back just for the idea, didn't you? I'm proud of you too, but your partner deserves the world right?Let's plan something wonderful (beyond just words) for your Seattle surprise proposal!
Finding the person you want to spend the rest of your life with is a one-in-a-million kind of feeling — but there are a variety of factors that can go into planning the perfect way to ask them! If you're feeling lost in a sea of ideas once you've acquired the jewelry and the general location (Seattle yay!) I'm here to steady your course, give you tips, and ensure your proposal is worthy of your perfect person.
01. Break it Down
What kind of relationship do you have? What kind of person IS your partner? Would they prefer an intimate environment or do they want all eyes on them? Should we create a space for your proposal or keep it minimalist and simple? These are questions you should think about before we proceed! Get to the root of your relationship and draw from what you enjoy most about them. You can never go wrong with what lights your soul on fire about your partner, let's focus on that!
02. But, Where?!
Okay, we know, Seattle! But, let's be a little more specific. One of the reasons I enjoy photographing in the Seattle Area is because of the unique topography it offers. The city itself is incredible and home to stunning skylines, natural parks, and wonderful waterfront views. My top 7 locations for your surprise wedding proposal in Seattle are: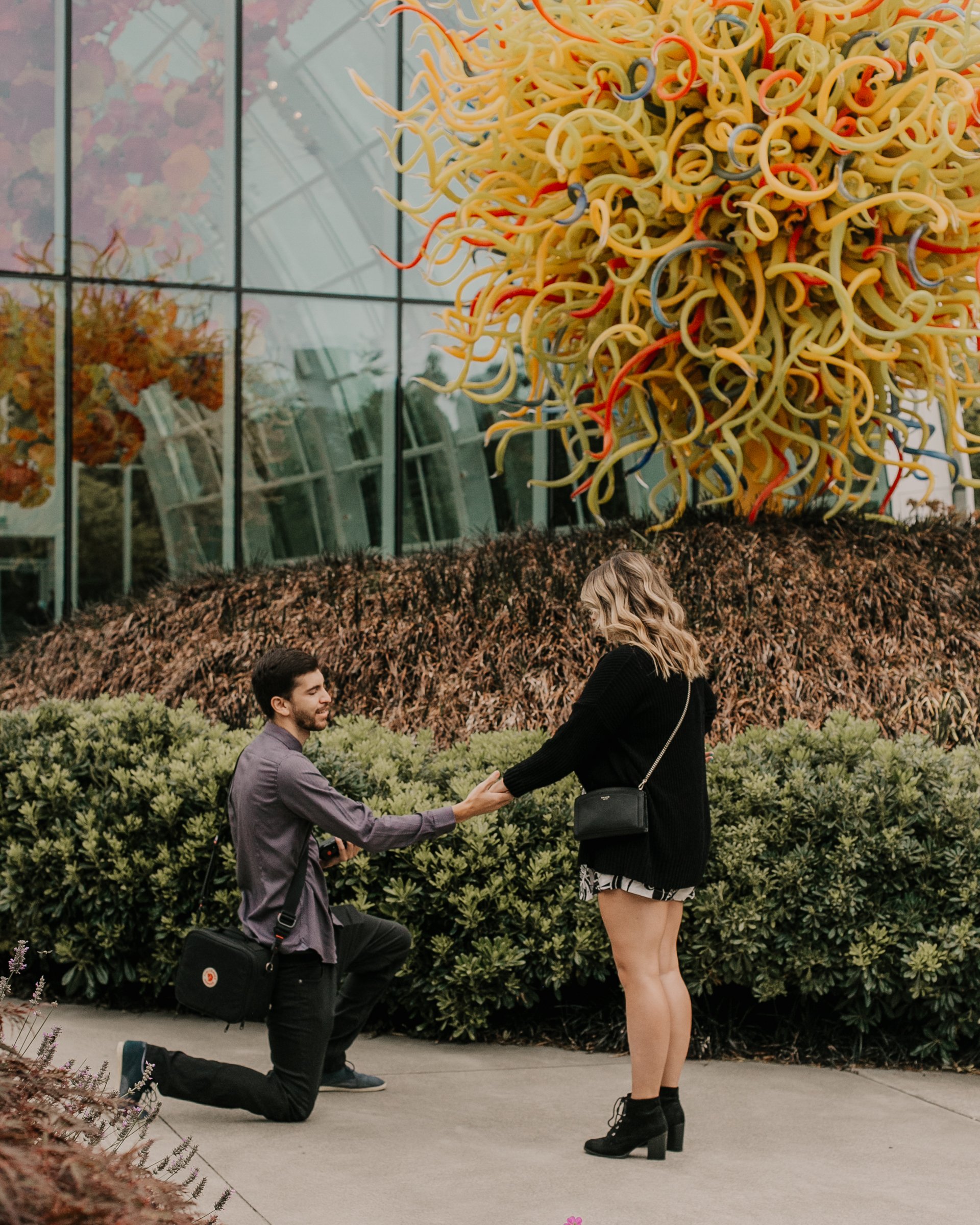 03. Timing is Everything
That age old phrase, 'timing is everything in life' really rings true in situations like these. For example, if you're planning on proposing in the winter in Seattle…head's up, the sun goes down at 4pm! Other than keeping an eye on the natural light for photographs, centering everything around the time of day is my biggest tip for proposals! Seattle attracts a lot of tourism, especially in the warmer months, so try to choose a time where there will be fewer people at your location. Speaking of warmer months, here in the PNW our warm season doesn't last long, so if your location is filled with a beautiful view or wonderful attraction, don't forget about the potential overcast and foggy days that come with months that aren't in summer!
TIP FROM A PRO: time things with your photographer as well!!!! Think of something that can signify to your photographer that you are about to get on the ground and pop that Q. I like to suggest something simple, like a hug to my clients! It gives us anxious photographers a small breath to prepare to document your moment and can allow you to position your partner in the perfect spot!
04. Make it Individual
No one likes cookie-cutter anything, unless its a sweet dessert and in cutesy shapes. So add a little individuality to the proposal that reflects a relationship that is as unique as you guys are. I've photographed proposals that have included tangible sentiments like photos through the years or inviting of family from far places. You could also choose a location that holds significance to the two of you; a favorite date spot, whilst on your dream vacation together, or a view your partner has always wanted to see. Whatever it is you do, add a little bit of YOU into the moment you're creating, it will automatically make the memory even stronger. Like one of my recent Engagement couples who chose the Waterfront, featured below:
05. P R E P A R E
Prepare, prepare, prepare. Like your love life depends on it! This isn't the Oscars by any means, but it is an occasion that deserves a heartfelt speech, a killer cover story, and the forethought to bring a touch-up bag (brush, tissues, makeup) for the photos afterward… that will hopefully be with me 🙂
06. The After Party
After you guys take a little time to live in the moment…and then FaceTime everyone you know and love, you have to go celebrate the occasion! There's a mass of quirky and classy bars in Seattle to toast at once your surprise proposal has gone off without a hitch, but here are a couple of this late 20s year olds favorites:
When you have everything down and need a photographer to document your Seattle proposal —
OR if you need help in the planning process: